| | |
| --- | --- |
| Together with  | |
Node Security Releases Expected.. Today? — Releases of Node 14.x, 16.x, 18.x and 19.x are expected imminently to address three security vulnerabilities. The good news is when they do appear, they'll update the post we're linking to, so by the time you see this, they might already be here..
Juan José Arboleda (Node.js Team)
On Rust and Its Relationship with Node — A brief interview with a developer about the growing and symbiotic relationship between Rust and Node.js, as well as NodeAPI vs WebAssembly.
Alberto Esposito
The Remix Project is Joining Shopify — Shopify is known as a Ruby shop but also does a lot of front-end work, including building the React-powered Hydrogen framework. They saw Remix's full-stack approach (which isn't exclusively for Node, but is currently most commonly used with it) as a good way forward and have brought the team and technology in-house.
Dion Almaer (Shopify, not Spotify)
directory-serve: Serve a Local Directory over HTTP — This is really neat. Just run
and this spins up an HTTP server that presents the files in your current directory in a nice Web-based interface. You even get a QR code to make it easy to load on your other devices.
Cube-Root
Output to S3 via AWS Lambda — There are other ways to do this sort of thing on AWS, but this is a pretty direct and flexible way to take database backups.
James H
Find Tech Jobs with Hired — Create a profile on Hired to connect with hiring managers at growing startups and Fortune 500 companies. It's free for job-seekers.

Hired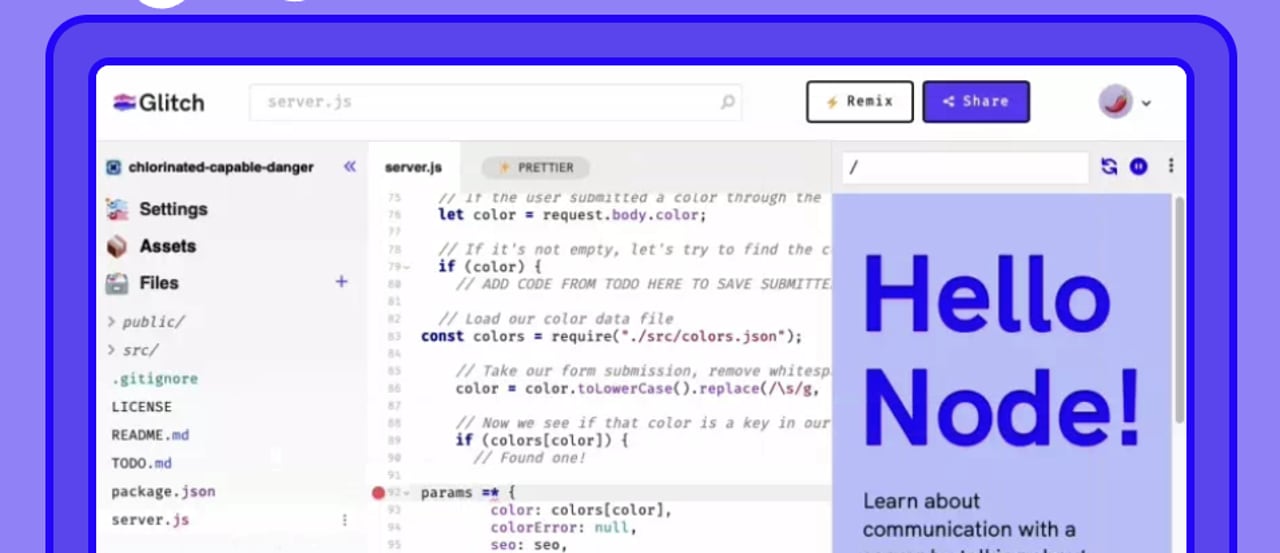 Glitch is an online JavaScript app development and hosting platform that emerged from the remnants of Fog Creek Software (of FogBugz and Stack Overflow fame). I've been keeping an eye on it since it came out in 2018.
Unlike most platforms, Glitch has a light-hearted, whimsical approach where users are encouraged to play, 'remix' other people's apps, and generally focus on smaller (often communual) apps. It was acquired by Fastly earlier this year.
I've been playing a little more with it recently and while it's not the best known or most production focused platform, if you want to build small experiments, teach other people to code, or even just throw up a quick Eleventy-built static site or blog, it's fantastic and worth checking out. You even get some persistent storage and can use SQLite behind your apps which is a neat touch.
(Replit is another player in this space that I'm also keen on. It's a bit more serious but also offers extra features, scale, and official support for other languages.)